200
cities with connections to telehouses, PoPs and data centres
Performance, security and growth: GasLINE's fibre-optic network
A solid fibre-optic infrastructure is the foundation for high-performance telecommunications networks. GasLINE's fibre-optic network is being continuously expanded to meet growing market needs and help develop new business locations.
Fibre-optic network throughout Germany
Redundant backbone with meshed network structure
Network connections to regional city carriers
International fibre-optic network connections to established carriers in neighbouring countries
Connection to telehouses, computer centres, PoPs and information and communication technology centres (ITC providers)
Consistent Quality of Service (QoS)
NOC (24/7/365)
Network expansion
Turnkey and secure
Companies building and operating of fibre-optic networks have to observe a multitude of planning, regulatory and legal requirements. GasLINE offers a comprehensive "turnkey service" covering all of these aspects up to and including the provision of the network connection itself.
Underground installation of all cable ducts
Cable ducts routed mostly within the right-of-way of high-pressure gas pipelines
Fast, reliable and sustainable realisation of construction projects
Special installation method that protects nature and the landscape
Customised planning processes
Schematic diagram showing cable duct installed within the right-of-way of a gas pipeline: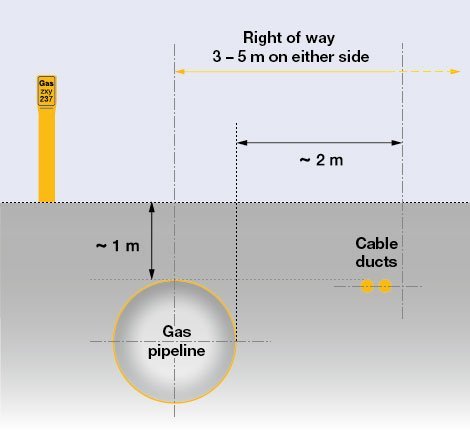 Network operation
and monitoring